The Studio Itself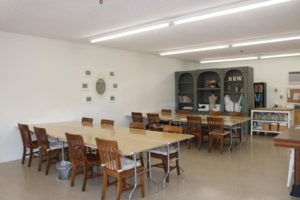 We are a family run studio dedicated to welcoming people of all ages who want to experience sewing in the best way possible….with friends. If you love to sew, quilt or perhaps even love paper crafts, Sew Easy Studio is here for you.   Our 1500 sq. ft. studio is set up as a large craft room for you to enjoy.  Our decor is simple yet pleasing with white walls allowing the many little hidden treasures to capture your eye; you are sure to find a little bit of inspiration wherever you look.
Admenities include:
16 – 6ft tables with padded chairs
4 ironing stations
2 large cutting tables with various mat sizes as well as a variety of rulers.
 2 large 8ft by 8ft project board stations
Temperature controlled enviroment
Private use restroom
Daylight bright lighting
Sewing machine rentals.
We also offer a kitchenette area that is stocked with drinks, coffee station and snacks that are available for a nominal fee as well as a refrigerator and microwave that are available for use.
Add the convenient location and great parking, we are hoping to not leave any room for want.
Join a class, open sew/craft day or let us know if you would like to host an event.  Our facility is also available for hourly rental.   We are here for you.